Our Story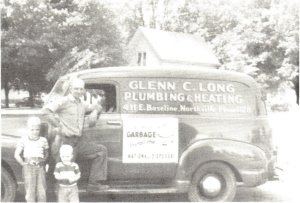 Glenn and Lois Long acquired Long's in 1949 out of their home in Northville, Michigan. Glenn would make the service calls and Lois answered the phone and took care of the company books. As the business began to grow, in 1954 they constructed an office, showroom and warehouse facility on Seven Mile Road. Additional employees were hired to service their growing number of customers. The showroom allowed them to display household appliances and plumbing fixtures. In addition to private homes, they began to provide plumbing service to local offices and businesses.
In 1964, Glenn Long acquired property in downtown Northville and a new building was constructed on Dunlap Street. The large showroom highlighted plumbing fixtures and parts for plumbing repairs. In 1970 a portion of the showroom was dedicated to bath and kitchen remodeling, which laid the groundwork for today's outstanding Long Design Gallery.
Continued business growth built on customer satisfaction led to the construction of the current office and showroom on Main Street in downtown Northville in 1974.
In 2019, Allison Long Burns, granddaughter of the company founders Glenn and Lois Long and daughter of past President Jim Long proudly became the third generation President and owner of "The Long Companies".
From the little mom and pop operation that began over seventy years ago, Long's has grown into a multi-million dollar private corporation, consisting of four divisions with more than 70 professional team members.