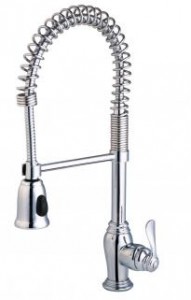 Have you seen the commercial where a lady pulls a faucet out of her purse and asks the architect to design a house around it?
I wish It was that simple!!!!!!! There are a lot of questions that need to be asked before you can decide which faucet that is right for you. Finish, style, function, single hole or wide spread, manufacture, and warranty.
At Long's we pride ourselves on selling stylish, functional and quality plumbing fixtures. We are here to help you with your questions and selections. What finish is right for my bathroom/kitchen? What faucets will reflect my style?  What brand do you recommend? What kind of warranty and service can I expect from the manufacture after the sale?
From July 1-31st 2009 we have Santec faucets and plumbing fixtures on sale for 30% below suggested retail.
Santec has some beautifully designed unique faucets that will be a wonderful addition to your bath and/or kitchen. With 25 finishes and 38 styles Santec creates abundant opportunity to find the perfect faucet for you.  Stop by and check them out today!
Posted by